This page relates to a Metal Slug Attack unit; for information about this boss in the main series, see Brain Robot.
Brain Robot
Rarity
Faction
Aliens
AP cost
900
810
720
Optimal range
Long
Traits
Stun
Playable since
1.0.2
In-Game Description
"This sorrowful robot was created by the Invaders in order to conquer Earth."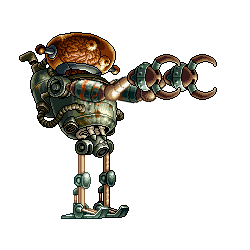 The Brain Robot is a Super Rare large armored unit from the Aliens faction in Metal Slug Attack. Relative to its Metal Slug Defense incarnation, the Brain Robot has improved HP, firepower, and speed - as well as the addition of a stun effect to its special attack.
Parts of the Brain Robot can be found in the Guild Shop (5 parts for 500 guild medals). It can also be found in the Extra and Rare Shops, being sold in sets of 2/3 for 80/120 medals respectively. It can also be obtained as part of a level-up sale.
When placed with the Bull Drill in the same deck, they form the "Weapons of Sadness" team. This lowers their AP costs by 10%.
Attacks
Short Range

Wrecked Vehicles (Spread) Grabs a wrecked vehicle and drops it at enemies.
Long Range

Energy Ammo (Spread) Fires a long-range guided ball of energy, using its electric brainwaves.
Special Attack

Energy Ammo (Spread) Crouches and reveals a cannon from its torso, firing a rapid amount of energy projectiles in a zig-zag pattern.
With 2 unlocked, has a chance to deal criticals.
With 3 unlocked, changes to a large electromagnetic field covering a wide area.
With 4 unlocked, has a chance to apply stun.
Health
Attribute
Resistance
Lvl

Kinetic
Increased
1
10000
11000
12100
13310
14641
10
15000
16500
18150
19965
21961

Explosive
Increased
20
20000
22000
24200
26620
29282
30
25000
27500
30250
33275
36602

Incendiary
Normal
40
30000
33000
36300
39930
43923
50
35000
38500
42350
46585
51243
* HP might be increased by skills / items or buffs
Strengthen Weapon

Strengthen all attack power by (10%, +0.5% each level).

---

Full Spark

Special Attack's critical rate will become (20%, +0.5% each level).

---

Arc Thunder

Number of Special Attacks will increase.
Strengthen Special Attack power by (10%, +0.5% each level).

---

Electromagnetic Restraint

When a Special Attack hits, there is a (10%, +0.5% each level) chance that the enemy will be stunned.

---
Ad blocker interference detected!
Wikia is a free-to-use site that makes money from advertising. We have a modified experience for viewers using ad blockers

Wikia is not accessible if you've made further modifications. Remove the custom ad blocker rule(s) and the page will load as expected.