This page relates to a Metal Slug Attack unit; for more information about this boss in the main series, see Big Shiee.
Big Shiee
Rarity
Faction
Rebel Army
AP cost
1,000
900
800
Optimal range
Medium
Traits
Pierce
High Damage
Critical
Playable since
1.8.0
In-Game Description
"A giant battleship from Morden's Army. This ship can battle on both land and water."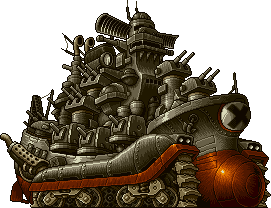 The Big Shiee is a Super Rare unit appearing in Metal Slug Attack. Unlike in the original series, The Big Shiee's tank tread can be seen clearly, as it could in its prior Metal Slug Defense appearance.
It was first only obtainable as a rank reward unit exclusive to the Extra Ops titled "Pirates Attack", but later became available via the boss stages of the first chapter of the Ptolemaic Army's Story, dubbed "Scrap Life".
The Big Shiee is well known for its powerful special, which has a base damage of 10,000 - surpassed only by a few units. While

4 states that the area of the special attack will improve, it is false - it simply increases the speed of the battleship shell. It may look like the shell only hits once, but depending on the size of the unit and it's position, it can deal multiple hits at once, often resulting in an instant kill should that happen.
Drawbacks of Big Shiee include its atrocious movement speed, further hampered by its somewhat low health and susceptibility to knockback. Fortunately, it does gain knockback immunity while performing its special. Compared to the Ghost Shiee, which is stronger (but costing much more and only when it has

4), the Big Shiee can take advantage of various buffs.
Putting the Big Shiee on a gold/platinum frame is optional, since doing so only cheapens its AP cost and slightly increases its standard attack. It does not get any other boosts from it.
When placed on the same deck with Assy Nero and The Keesi II, they form the "Second Rebellion" team, lowering their AP costs by 15%.
Attacks
Short Range

Secondary Battery (Spread) - Peppers the area with its secondary battery, damaging any enemy units on the way.
Special Attack

Main battery (Spread) - A single cannon fire from its main battery, dealing massive damage. The shell is fired faster with

4. Even if the Big Shiee reaches 0 health, it will still finish the special attack before exploding.
Health
Attribute
Resistance
Lvl

Kinetic
Increased
1
25000
25000
25000
25000
25000
10
37500
37500
37500
37500
37500

Explosive
Normal
20
50000
50000
50000
50000
50000
30
62500
62500
62500
62500
62500

Incendiary
Normal
40
75000
75000
75000
75000
75000
50
87500
87500
87500
87500
87500
* HP might be increased by skills / items or buffs
* Unit gains no HP when evolved
Strengthen Weapons

Strengthen all attack power by (20%, +1% each level).

---

All-Around Armor

HP will increase by (20%, +1% each level).

---

Equip Anti-Armor

Critical rate from all attacks becomes (10%, +0.5% each level).

---

80cm Explosive Bullet

Area of Special Attack will increase
Strengthen Special Attack power by (10%, +0.5% each level).

---
Videos
Trivia
The team name "Second Rebellion" is a reference to the second game.
Ad blocker interference detected!
Wikia is a free-to-use site that makes money from advertising. We have a modified experience for viewers using ad blockers

Wikia is not accessible if you've made further modifications. Remove the custom ad blocker rule(s) and the page will load as expected.