---
---

Battle Cats is a tower defense game created by PONOS for iOS and Android mobile devices. It later made a collaboration campaign in Metal Slug Defense where there are crossover units in both games.
The game is very similar to Metal Slug Defense, both share some characters to play.
COLLABORATION CAMPAIGN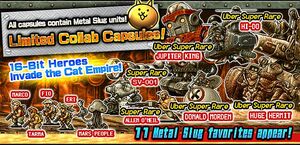 Ad blocker interference detected!
Wikia is a free-to-use site that makes money from advertising. We have a modified experience for viewers using ad blockers

Wikia is not accessible if you've made further modifications. Remove the custom ad blocker rule(s) and the page will load as expected.