This page relates to the Metal Slug Attack unit, for more information about this unit in the main series, see Augensterm.
Augensterm Ver(P.M)
Rarity
Faction
Ptolemaic Army
AP cost
450
405
360
Optimal range
Short
Traits
Counter
Invulnerability
Playable since
1.18
In-Game Description
"An Augensterm maneuvered by the commander. Its wires can also stretch upward."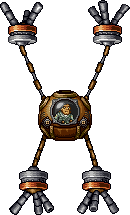 The Augensterm Ver(P.M) is the Ptolemaic variant of the original Augensterm in Metal Slug Attack. Unlike its Regular Army incarnation, this version is controlled by the Commander, and lacks any vulcans. It was originally available during the Extra Ops titled "Queen's Battle", as a rare boss reward.
It primarily attacks with its wire, which is the actual special attack of the original variant, while its own special consists of firing a second wire upwards towards aerial units. Unlocking

4 increases its wire count to four.
The Augensterm Ver(P.M) is well-known for its AP cost and high health, allowing it to be deployed as an early wall (especially if used alongside UFO Invader and / or Flying Tara Ver P.M.). Like Leona, any attack that would knock it back is instead countered (allowing the Augensterm to attack back while in turn becoming invulnerable to damage), allowing it to easily shrug off the likes of Ralf. Unfortunately it doesn't fair so well against units which do not lower resistance, such as Beatriz or Abigail. Another disadvantage about Augensterm Ver(P.M) is while it is performing its counterattack, back-line units behind it can be hit by some units.
When placed in a deck with the Jupiter Queen (P.M), they form the "Homage Weapons" team, lowering their AP costs by 10%.
Attacks
Short Range

Wire (Spread) - Impales the enemy with its wire, dealing massive damage, while getting knockbacked this attack will be activated while Augensterm will retain an invincibility frame.
Special Attack

Wire (Spread) - Shoots two wires; the first one aimed upwards before shooting another downwards (like the standard attack)
With 4 unlocked, the Commander fires four wires (two top and bottom).
Health
Attribute
Resistance
Lvl

Kinetic
Increased
1
26000
28600
31460
34606
38066
10
39000
42900
47190
51909
57099

Explosive
Increased
20
52000
57200
62920
69212
76133
30
65000
71500
78650
86515
95166

Incendiary
Increased
40
78000
85800
94380
103818
114199
50
91000
100100
110110
121121
133233
* HP might be increased by skills / items or buffs
Strengthen Weapon

Strengthen all attack power by 10% (+0.5% each level).

---

Strengthen Driving

Movement will increase by 0.10 (+0.02 each level).

---

All-Around Armor

HP will increase by 20% (+1% each level).

---

Wire Shot

Number of Special Attacks will increase.
Strengthen special attack power by 10% (+0.5 each level).

---
Trivia
This variant may also speculate that Augensterm was originally a vehicle from Ptolemaic Army, as originally the Commander had to be defeated in order to ride the vehicle which ended up getting unused.
The Augensterm Ver(P.M) along with Karn MK II are the only Rare Boss unit that is classified as a Super Rare unit.
Introduction Video
Ad blocker interference detected!
Wikia is a free-to-use site that makes money from advertising. We have a modified experience for viewers using ad blockers

Wikia is not accessible if you've made further modifications. Remove the custom ad blocker rule(s) and the page will load as expected.