---
---
This page relates to a Metal Slug Attack unit; for information about this boss in the main series, see Amadeus.
Amadeus Type:γ
Rarity
Faction
Independent
AP cost
1,600
1,440
1,280
Optimal range
?
Traits
?
Playable since
2.3.0
In-Game Description
"?"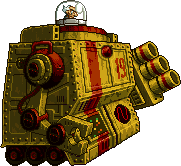 The Amadeus Type-γ is a playable unit in Metal Slug Attack, first appearing in the Extra Ops "Amadeus' Revenge". It is a yellow colored variant of the β version.
Attacks
Short Range
Saw - Sends out a saw that deals rapid damage and covers a short range. The saw will then retract and return to the Amadeus Type-γ.
Long Range
Vulcan - Two vulcan cannons appear from the main frame of the machine and fire multiple short bursts at the enemy.
Special
Laser Bit - Shoots out 4 (8 via skill 4) satellites from its cannon, which then zap enemies (much like White Baby's long range attack). Each satellite only performs one burst before crashing into the ground.
Health
Attribute
Resistance
Lvl

Kinetic
Increased
1
26000
28600
31460
34606
38066
10
39000
42900
47190
51909
57099

Explosive
Normal
20
52000
57200
62920
69212
76133
30
65000
71500
78650
86515
95166

Incendiary
Normal
40
78000
85800
94380
103818
114199
50
91000
100100
110110
121121
133233
* HP might be increased by skills / items or buffs
Videos
Ad blocker interference detected!
Wikia is a free-to-use site that makes money from advertising. We have a modified experience for viewers using ad blockers

Wikia is not accessible if you've made further modifications. Remove the custom ad blocker rule(s) and the page will load as expected.