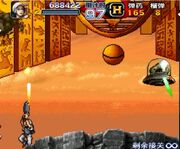 ---
---
The Alien Floating Structure is the final boss in Metal Slug Warriors and Universal Metal Slug: Triumph. It attacks with many forms of energy beams and wave emitter. Its origins are currently, and as it destroying everything in its way it must be stopped. Mars People will help the player during the battle, and if a Mini-UFO is destroyed it will drop weapons for the player.
After the Structure is destroyed, an UFO will sacrifice itself to destroy the core, and then the Structure goes away.
Trivia
If the player doesn't use any continues (3 lifes), they'll get a Blue SV-001 to battle against the final boss.
The tower the final boss is fought on shares some resemblance with the tower where the players fight Sol Dae Rokker in the 4th Mission of Metal Slug 3.
This boss may be an enemy of the Mars People, since some UFO's will help the player during the battle
The UFO who sacrificed himself may be a reference to the Flying Tara who did the same thing against the Rugname on MS2 and MSX
---
---
Ad blocker interference detected!
Wikia is a free-to-use site that makes money from advertising. We have a modified experience for viewers using ad blockers

Wikia is not accessible if you've made further modifications. Remove the custom ad blocker rule(s) and the page will load as expected.