Aeshi Nero
Talk

0
463pages on
this wiki
Boss

Full Name

Giant Excavator "Aeshi Nero"

Weapons

Missiles, Electricity, energy cannon, laser cannon

Games

Sprite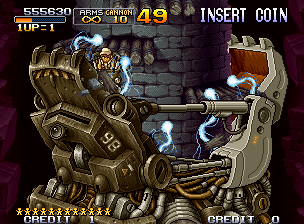 The Aeshi Nero is the second boss from Metal Slug 2 and Metal Slug X.
Information
Edit
The Aeshi Nero is gigantic excavator with appearance to be resemble of that of cobra. Designed for travel through underground and is used by rebel. In its mouth it has a missile launcher, allowing the excavator to fires an homing missile. The excavator's primary weapon is an large laser cannon inside its mouth. Allowing it to fire a powerful laser cannon that is powerful enough to destroy through the hard stone layer. It is also used to create a large cavern for rebel's base.
You fight this boss in a tower inside a tomb, with it digging through and suddenly appearing from the bottom. Whenever you climb, it will also follow you, while launching missiles and electric balls. It will also intermittently charge and fire its laser cannon that will go up the entire tower, the laser are extremely fast, forcing you to go to the edge of a wooden platform to avoid it. The missiles and electrics are easy to dodge, but the fact that you are in a limited space and can fall to your death if you weren't careful tends to make this boss a bit hard. Also, it may suddenly crawl up and electrocute you with energy sparks, so keep on jumping up. Having Slugnoid will make the battle much shorter. However, losing the slug can make this fight quite annoying, as you have to constantly jump and shoot down. Sometimes a Rocket Launcher or a heavy MG box will drop down, however they may fall on inside this boss's mouth, making the retrieval process difficult.