Abul Abbas is a minor antagonist who appears in Metal Slug 2 and Metal Slug X. He is the leader of the Arabian revolutionaries, having made an alliance with Donald Morden. He has an indomitable fighting spirit, but tends to withdraw when things get rough.
Details
He appears commanding the Arabians soldiers to fight, but when he see his soldiers defeated, he retreats. He appears 2 times commanding soldiers, and 1 more time while the player is fighting against The Keesi. In Metal Slug X, the Iron Nokana replaces The Keesi.
He only makes the commanding action and when the Keesi/Iron Nokana is destroyed, he takes out a white flag and surrenders.
He is a playable character in Metal Slug Defense and Metal Slug Attack.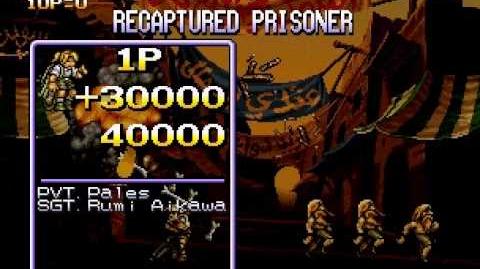 Gallery
Trivia
If you time Iron Nokana's cannon fire at the exact moment you defeat it, he will be killed.
The Elite Arabian Soldier uses a customized model of Abul; the only differences are the color of their attire and their attacks.
Ad blocker interference detected!
Wikia is a free-to-use site that makes money from advertising. We have a modified experience for viewers using ad blockers

Wikia is not accessible if you've made further modifications. Remove the custom ad blocker rule(s) and the page will load as expected.