04 April 2016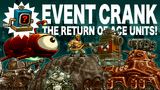 Introduction of the Event Crank that drops Units of all Rarities combined, at the cost 33.3% lower than that of the Medal Crank.
"Multiple feature updates," including:
Units
Variables
Old
New
Clear a Standard Mission
MSP
3,000
10,000
Clear an Elite Mission
MSP
5,000
20,000
Refill Sortie Points for Medals
MSP
1,000
5,000
Clear a Day Specific Mission
MSP
1,000
5,000
Try a Battle
Plays
MSP
3
1,000
1
5,000
Try a Team Battle
Plays
MSP
3
2,000
1
5,000
Win a Battle or Team Battle
Wins
5
1
Win a Battle or Team Battle
Wins
10
3
Pass a Training Program
in Combat School
Wins
MSP
5
1,000
1
5,000
Clear a P.O.W. Rescue stage
MSP
Gold Bars
2,000
0
5,000
200
Begin a Treasure Hunt
MSP
1,000
5,000
Try a Mystery Crank
MSP
1,000
5,000
Complete 5 Daily quests
Sortie Points
30
60
VIP Crank is now visible to everybody (previously hidden until unlocked)
News Box in the top right corner of the Main Menu now applies a CRT TV mask to its contents.
Units
Stats
Old
New
Augensterm
HP
8,000
12,000
Clone Fio (Zombie)
Dam. [Spec.]
?
?
Dam. [Death]
?
?
Rebel Rifleman
Dist. [Far]
Dist. [Spec.]
310
410
320
420
Samurai Infantry*
Dam. [Spec.]
400
480
Note: Samurai Infantry adjustments listed above may have been present in 1.2.0 but weren't checked at the time.
Bugs fixed:

Strings typed into text fields and not submitted are no longer being put into every other text field.
Vanguard's stage icon in Special Ops now shows the correct image.
Shoe and Karn's Skill 4 is now affected by Distance modifiers.
Maggot, Flying Killers, Mortar, and Guerilla Mortar can now be set-up immediately after production.
(In specific languages) the Rookie Pack (introduced in 1.2.0) purchase screen now displays correct information.

As a compensation, all players are given a week to take the opportunity.
06 April 2016
15 April 2016
2 new Units: Commander, Zombie Marco.
Medal Crank now drops Gold and Platinum Items (as the VIP Crank does) instead of Silver and Gold.
Rank difference from the player in the opponent selection (above rank 100) of Battle and Team Battle has been reduced to 10.
Changes to unit part drops in Elite Missions (replacing duplicated or missing units):
Ad blocker interference detected!
Wikia is a free-to-use site that makes money from advertising. We have a modified experience for viewers using ad blockers

Wikia is not accessible if you've made further modifications. Remove the custom ad blocker rule(s) and the page will load as expected.